Smaller and faster proxies in After Effects
I talked about it just yesterday, I've found a way to make PNG image file sizes smaller.
Using this method, I developped a script to automatically create proxies in After Effects, using PNG sequences (keeping transparency) with very small file sizes, so it's way faster to use in After Effects, with just a minor loss in quality.
Quick reminder: using pngquant, you can greatly reduce PNG file sizes, improving their colors and transparency. The loss in quality is very small, but the sizes of the files are greatly reduced, which means it is the ideal tool to create proxies in After Effects: being smaller, using those files is way faster; and as long as you're not doing a heavy color correction, you won't see any difference.
This is the script: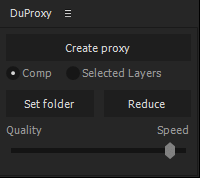 Installation :
DuProxy should be compatible with all After Effects versions (if you find any compatibility issue, leave a comment here); for now, there's only a Windows version. As I do not have a Mac, I can not develop a Mac version yet, but I think it should not be a lot of work to do it.
DuProxy is free, released under the GNU-GPL v3 ; it makes use of pngquant which is released under the BSD license.
First, download DuProxy here.
Unzip all the files in After Effects installation folder and "/Support Files/Scripts/ScriptUI Panels/".
Relaunch After effects.
Using it is very simple:
Choose a folder where you want to store the proxies (PNG sequences) for this project, clicking on "Set folder". This step is optionnal if you don't want to change the latest folder you selected.
Choose your comp (in the project panel, or use the active comp).
On the DuProxy panel, choose if you want to render the comp as it is, or if you want to see only selected layers.
You may adjust conversion speed with the slider at the bottom of the panel; usually, even with high speed, there is good quality.
Click on "Create proxy".
Next, everything is automated…
DuProxy begins by rendering the composition, with current display options (which means display definition will be used: you can easily choose "Full", "Half" or lower definitions).
With After Effects CC2015, this rendering will be made as a background task! You can use After Effects while it goes on (only on another comp). With earlier versions, you'll have to wait a little, or create gorgeous illustrations with Photoshop.
Once this render is finished, DuProxy launches PNG conversion to reduce file sizes. Now After Effects is free to do what you want, except: close the project or renaming the comp for which you're creating a proxy, or else DuProxy won't be able to set the proxy automatically (anyway, that won't be a great pain as it's just a one-click action).
Finally, when the conversion is over, DuProxy automatically sets the proxy to the comp, you don't have anything to do!
Note: You can use the proxy created in any software capable of reading PNG files, the files created are standard.
And the "Reduce" button?
You can choose a PNG sequence which you want to reduce file sizes, then DuProxy will do it, outside of After Effects; you can then use this sequence wherever you want.
Original files won't be removed; reduced files will have the suffix "_DuProxy" in their file names.
Et voilà!
If you find any bug, do not hesitate to leave a comment here, and in a few days (weeks?) I'll build a nice page for the tool on www.duduf.net.